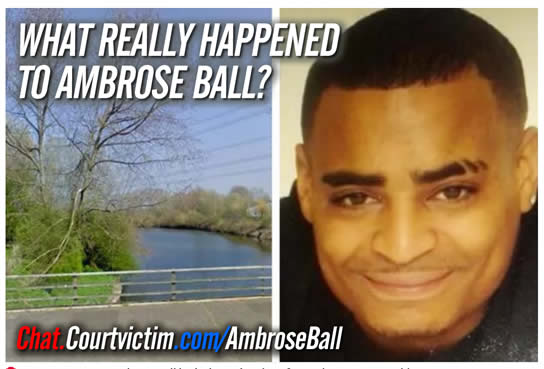 'I don't trust them' Mum tells inquest son's death was 'staged'
THE MUM of a man who vanished has denied a body found three months later was his corpse
Ambrose Ball, 30, disappeared after being involved in a fight at The Fox pub in Palmers Green, north London.
At an inquest today Toni Lovell also claimed the car accident in January this year had been staged.
His BMW was later found, with a wheel embedded in a nearby railings, on a road near Tottenham marshes just after 3am on January 24.
There was no sign of the father-of-two when the cops arrived and a police helicopter could find no trace either.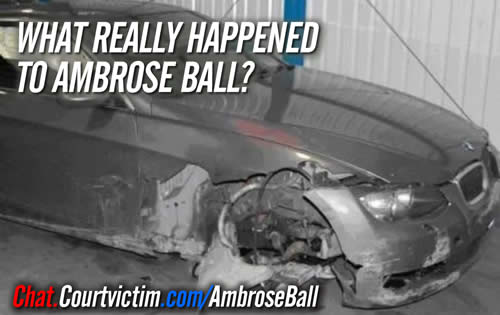 But on April 22 a body turned up in the river Lea almost a mile away.
Home Office pathologist Dr Simon Poole said he found no sign of a large tattoo of a Mexican woman on the abdomen of the body.Ms Lovell claims the body that was found was not her son and the missing tattoo was proof.
Today mum Toni Lovell claimed the body found could not have been her son's and said the car accident in January must have been staged.
She was told today that an expert would compare a photo of her son with the post mortem photographs but she replied: "But I don't trust them."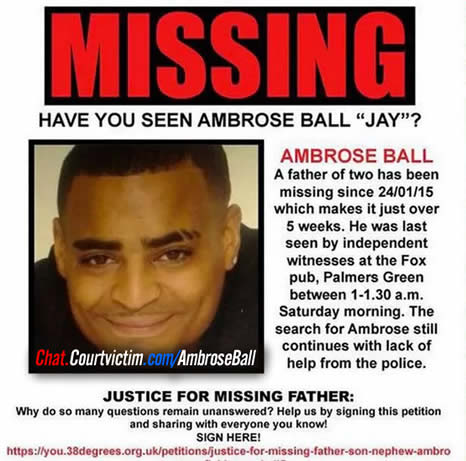 Earlier this week Dr David Williams, an expert at the Natural History Office, said the presence of diatoms – tiny creatures found in water – in his lungs made it "most likely" Mr Ball drowned.
Yet Dr Williams said he could not rule out he had been killed and then placed in the water.
Vincent Clegg told the inquest at Barnet Coroner's Court he was involved in a drunken fight with Mr Ball at The Fox in the early hours of the morning and was handcuffed.
And Todd Driver, who lived near the scene, said he saw a man wandering around dazed and then being ushered into another car by two men.
Another witness said they saw Mr Ball at approximately the same time and described him as being "hammered drunk".
PC Steven Sayer, a forensic collision investigator, said it was "highly unlikely" the crash had been staged.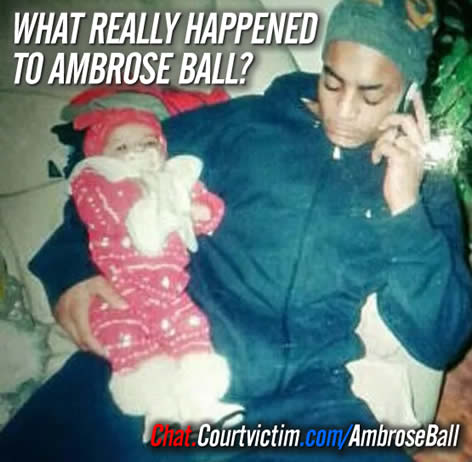 But Ms Lovell, who was questioning PC Sayer in the absence of a solicitor, said: "I believe my son didn't leave The Fox pub."
The coroner, Andrew Walker, asked her: "Do you believe he was murdered at The Fox pub?"
"Yes," she replied.
The Independent Police Complaints Commission is currently investigating Scotland Yard's actions after Mr Ball was reported missing.
The inquest is set to last two weeks.
---
Update on investigation into Metropolitan Police's response to a missing person report concerning Ambrose Ball
The IPCC independent investigation into the Metropolitan Police's response to a missing person report concerning Ambrose Ball is ongoing.
Mr Ball, 31, was reported missing on 24 January 2015 and his body was found in the River Lee Tottenham Marshes on 22 April 2015. An inquest into Mr Ball's death opened at North London Coroner's Court which concluded in January 2016 and recorded an open verdict.
Mr Ball's death was referred to the IPCC in July 2015 and since then the Lead Investigator Jennifer Gillan has collected and analysed a range of material including call recordings, statements and incident logs.
A civilian call handler and Police Constable who handled the initial call reporting Mr Ball missing have been served with a misconduct notice and interviewed as part of the investigation.
As part of the terms of reference the IPCC is also looking into contact between the force and Mr Ball's family, including the handling of a complaint they made.
Serving a police officer or member of staff with a notice advises them their conduct is subject to investigation; it is not judgmental in any way.
---
So just for the #recordnews I sent this email to all concerned including
who are added to this email sent 26 May 2023, 11:30 (5 days ago) to Mohammed, Williams, RL, Deborah.Granville, Oakleigh, inquest, senior coroner. private, Court, Beverley.Tarka, gavin.douglas@haringey.gov.uk, Fiona.Alderman, katherin.kyriacou2, inquiries, Mortuary.Haringey, Liaisonmanagers, Gina, Jonathanpr ball, Dionne, RUTH, Ruth To all concerned and those added for my own protection and evidence on a need to know basis. As you know the outcome of the hearing on 4th May 2023 we had made it known that my dentist is willing to help me get to a point to where we can get DNA to confirm or deny if the body held at Haringey council mortuary since 2015 is that of my son Ambrose Garfield Gene Ball. The first thing that is needed is something from yourself, the master of the court to give to my dentist to allow the process to go forward as well as being informed that the time needed will require longer than 28 days that we were given, this I would have thought the court would have had full knowledge of and advised us as such. Can I also point out that since the high court has been dealing with us, the first hearing fell on a public holiday weekend, and this May we have had not one, two but 3 bank holidays that have hindered us as I am sure most will know will have an impact on our time that has not helped us whatsoever. I hope this can be taken on board before Haringey Deborah Granville who was not at the hearing who has stated clearly what Haringey insurers need before going ahead with this unlawful disposal of a body and Gavin Douglas who did attend the hearing with their ongoing 8 years of attempts to go a head and dispose of a body without you the master of the high court having no clue who Granville was much less the list of questions that have been totally ignored just like everything that has never been addressed and still have not been provided. I also want to point out, despite Andrew Walker not seeing the details provided by the MET to Barts hospital that has my son's D.O.B as 1st January 1983 when it's 2nd March 1984 as the master of court just totally ignores every single word I said by following what everyone else has done who is a utter disgrace to be honest with you, as he was not the same judge who was sitting the case 4 months prior, as the master of the court is just reading from a screen in front of him that was from the original master and if this does continue on the road you all feel is acceptable without giving me the time and attention my son so deserves, please be assured that my fight will only get bigger, stronger and louder as I am confident if this was anyone of your children, you will kill to make sure that what you are all ignoring is addressed without any doubts whatsoever. How can any judge just brush off what I am telling them as the master of the highest court treats me as a senior coroner has done and expect me to just walk off as if this is acceptable, as if I am so unimportant to the level that he no idea who Deborah Granville was who has asked the police for such important information to not even have this addressed by the so-called master of the high court who needs to do his job and not just sit there without even looking at all I had sent for his attention the week leading up to 4th May 2023? I find the whole process unbelievable to be fair, and I would like to be heard and for someone to pay attention to what has been made known for the 8 years of hell that all feel I deserve nothing more than what you all have shown to my child so far.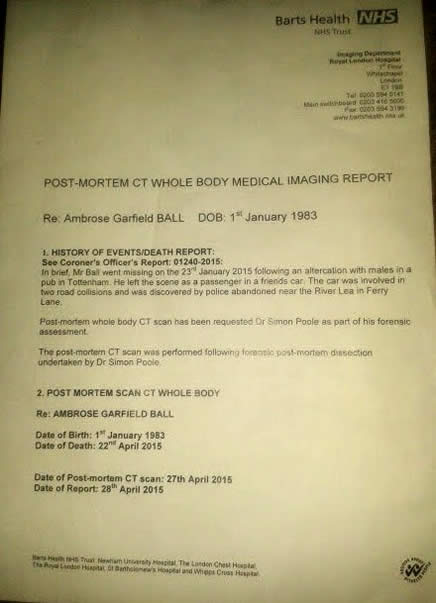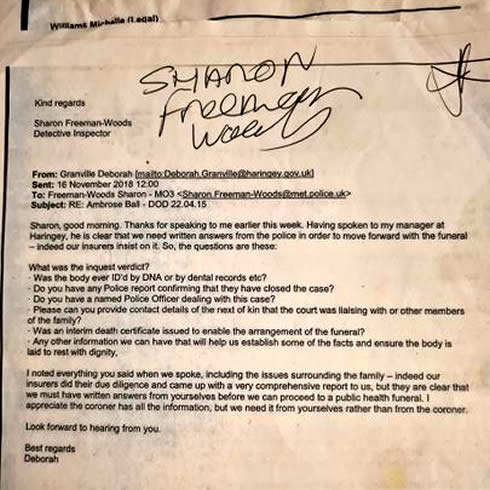 ---
IF YOU HAVE INFO ABOUT THIS CASE PLEASE CONTACT US

You have information, need to contact us or want to help