HOW TO GET STARTED USING THE COMMUNITY
STEP ONE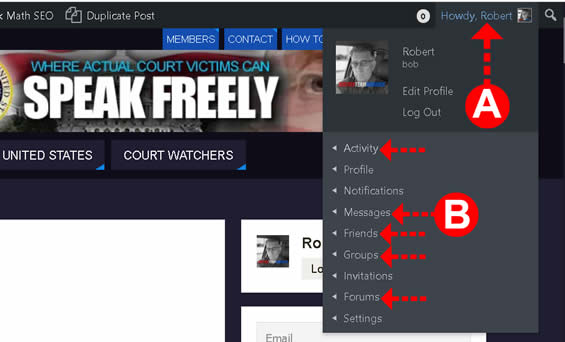 1. Login by clicking on "LOGIN" top right of your screen
2. Once you log in, you will see your name top right (SEE A ABOVE).
By clicking on your name you will see a drop down for the options.
3. Click on the option you wish to access (SEE B ABOVE). Click on one
4. There should also be a QUICK ACCESS Bar Bottom Right.
The main concept and use of this site are:
Groups, your own or others
Forum, your own or others
where you can choose to have the contents public (the world is able to find them)
or private (where only those you invite can see them.
MAKE SURE YOU FIND FRIENDS (MEMBERS) AND SEND INVITES.
Make sure to accept invites of other members to get started
Just like other social media sites, you can post content, text, photos or even links (URL's) to news stories,
documents or photos. The difference between Forums and Groups is forums can be organized by topics
which can be specific things, for example a specific problem, judge, lawyer, person, law, solution, state,
city or county (you get the idea).
As we grow there will be more friends, groups, forums etc. The benefit is YOU ARE THE COMMUNITY and you set the standards and rules. You are the ADMIN of your group or forum. You decide who gets access and who you wish to network with.
STEP TWO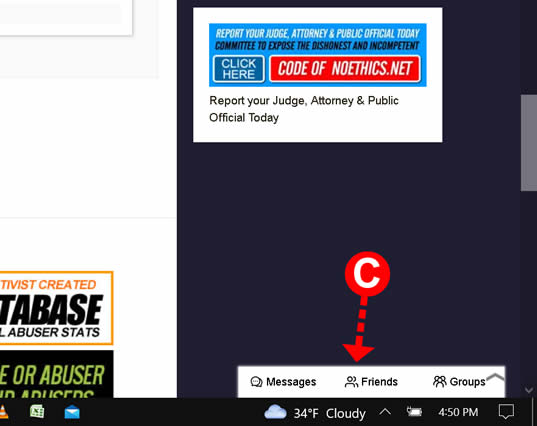 A quick access bar should always appear bottom right when logged on to your account.
(SEE C ABOVE).
STEP THREE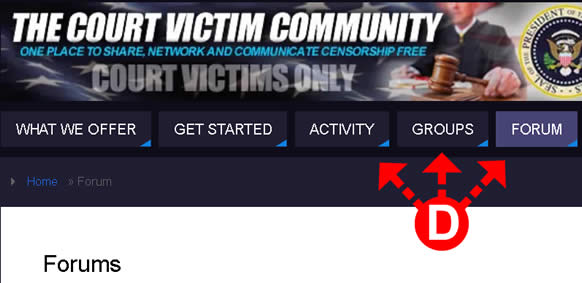 You can also access the Groups and Activity from the main site menu (SEE D ABOVE)
GETTING AROUND


DIFFERENCE BETWEEN GROUPS AND FORUMS
GROUPS are like Facebook groups where members of the group can interact with posting comments
FORUMS are discussion threads that are organized by topics, categories, County, State or Province and Counties or Cities (County listing is more accurate and preferred
TO GET TO THE MAIN FORUM PAGE AND GROUP PAGE, CLICK ON THEM ON THE TOP MAIN MENU
as seen in the image above with the arrows
Still need help or have questions? Contact us for help HERE
---