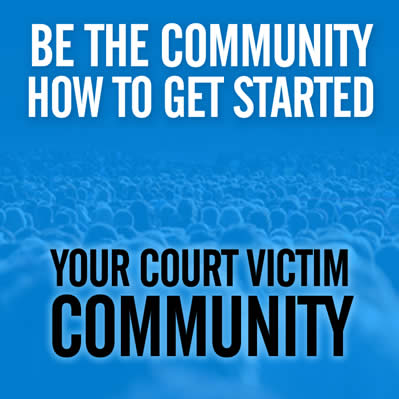 ---
BECAUSE WE CAN'T WIN THE WAR ALONE, AGAINST CORRUPTION, JUDICIAL ABUSE AND A FRAUDULENT LEGAL SYSTEM THAT OPERATES ILLEGALLY BEHIND A FALSE IMAGE OF JUSTICE VIA UNDESERVED AND STOLEN IMPUNITY
---
Goals and benefits:
Provide your info once. Network, share, support fellow court victims who are part of the same community. Take control of your communications and information. The community is about court victims, their security and protection come first. We are offshore hosted and protected by a secure domain and country that supports freedom of speech. We don't take down information about abusers because US law is not in effect in Iceland, where we're hosted.
No more "You violated Community standards" by a social media platform where you are not actually part of that community. You are the community here and have the right to vote for those rights, rules and forward progress.
You have control over who you network with and how much info they're able to see. No more giving out your email address only to be added with or without your permission to mass email groups where anyone can obtain your private email. We provide a safe and secure private messaging system,
No need to provide your phone number to anyone like major social media which has no business asking for a phone number due to a lack of security and not having humans operating the system in the background.
You can add yourself to groups and delete yourself from groups or emails by a click. You can host your own private group or forum, or multiple person audio or video messaging.
At no cost to you, we will never demand anyone make a donation, everything is voluntary. We will allow donations for the upkeep of the hosting and maintenance. Currently, everything has been donated and created by fellow court victims who volunteer their time and efforts.
We would like to thank all for the generous donations keeping us going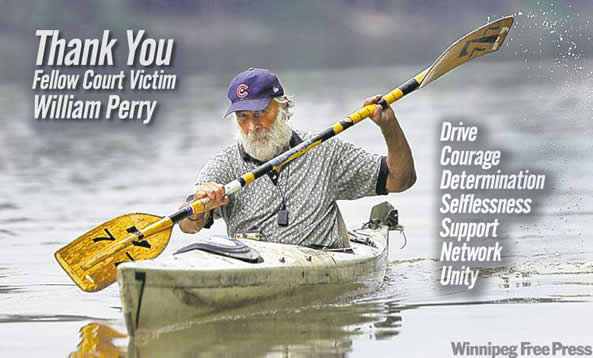 ---

WELCOME TO THE COURT VICTIM COMMUNITY
We are all actual court victims who have become activists with the goal of bringing together all the court victims in the world in one place.
To share tactics, abuse stories, names of abusers and locations of the abuse.
We've joined forces with other activists and victims from the following sites:
courtvictim.com Home for all Court Victims, find and list victims, judges, lawyers
uglyjudge.com Get your case listed and expose your ugly judges and lawyers
cleancourts.org Add your case to the Court Victim nationwide database
c4ccUSA.org Join Sherry and Bradford Lund in their efforts to expose court corruption
We're NOT about taking money for our services from fellow victims. Victims need to beware of those who pretend to want to help but once involved will ask, pressure or even demand payment. While we welcome any donation for the upkeep of our offshore hosted websites, this is only voluntary and never expected or mandatory. Victims should be helping other victims, not profiting from them.
TON'S OF FEATURES, see the bottom of this page
YOUR IDENTITY
If you wish to share less of who you are or remain anonymous, consider the "username" you choose which cannot be changed. It can be then selected as which identifies you. Your real name can be hidden even if you enter it, don't expect to get verified if you use too much fake info about yourself. Remember this is to be a community to protect our users, not the wild west like Facebook
---
DATA REQUESTED TO REGISTER:
Note, the information we ask for when you register will remain private and secure. The goal and purpose is to help victims in your state and city to find each other. To find victims of the same judges and lawyers. Note when you provide the info "Only Me" means other users will NOT be able to see the info; however, the info will affect statistics. "Everyone" means everyone will see that info.
USERNAME: Can be anything you wish (except the word Admin)
EMAIL ADDRESS: Please make sure your email address is valid and correct, if it's not, you won't be able to reset your password or access your account
FIRST NAME: Will be viewable, you may use an initial if you wish more privacy
LAST NAME: Is not viewable
YOUR CASE INFO IS VIEW AS YOU SET IT
 Only Me (you) or Everyone (Other users)
Register with a valid email address to join the community. Unlike Facebook who pays their fact-checkers and actual users are NOT part of the community which applies their rules and censorship without a fair appeals process, here you are the community.
The goals are to track and organize all court victims so that other victims in their states and cities can find each other. There is strength in numbers as well networking, support and going to court to support one another.
Please be sure to add your case (or as much about your case as you wish) at https://cleancourts.org/
STEPS TO GETTING STARTED:
1. Register at https://chat.courtvictim.com/register/
2. Look for the email "[Court Victim Chat] Activate your account"
Please take a look at your spam folder if you don't see it in your inbox
4. Log in with your username and password. Use the password reset option on the Login page if you forgot your password.
5. Once logged on, click on the top right-hand corner (Your Username) to reveal a drop-down menu.
6. Start exploring, join a group or create your own. Visit the Forum (discussion board) where we
are building YOUR community where court victims can share without censorship or propaganda, which is so common on the major social media platforms.
7. Know of other victims or families who need to get involved, use the share options at the bottom of our pages.
8. Get busy finding solutions, posting yours, networking and supporting other victims.
9. Find friends or invite other court victims, look for friends by clicking on the Members button.
We limit or refuse anyone who attempts or has been known to pretend to be a victim, is a member of the Legal BAR, asks for money or posts info to sell items. If you wish to market your books, we have a section for that which you can link to, but we don't allow posting items for sale of any kind.
Welcome to our community, unlike other social media platforms, this is your community where we vote as a group for changes. Censorship is not allowed.
First you need to register, your registration will have fields you need to include to validate if you are, in fact, an authentic victim.
AREAS:
DISCUSSION FORUM (Court Victim Forum)
Where you can add your case, questions, abuse or abusers
GROUPS Where you can join specific groups by type, location or from Facebook groups who have moved here.
Join as many as you want, use the subscribe option by checking the box on each group
LOG IN
Use your user name (issued when you register and found in your profile)
You can also use the email address used to register with
Password, if your password does not work (make sure you enter it correctly as you registered with)
Reset it HERE
Your Profile lets people know who you are
MEMBERS:
Find out who else is here or who you might want to send a friend request to
OUR MEMBERS
HELP OR SUPPORT?
Use this form if you are having problems accessing the site
Get familiar with how your dashboard works to find your way around:
---
STEP ONE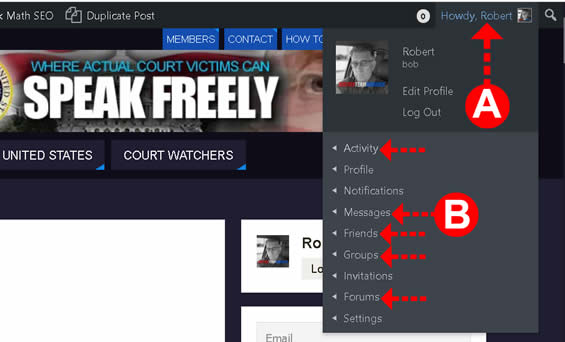 1. Login by clicking on "LOGIN" top right of your screen
2. Once you log in, you will see your name top right (SEE A ABOVE).
By clicking on your name, you will see a drop-down for the options.
3. Click on the option you wish to access (SEE B ABOVE). Click on one
4. There should also be a QUICK ACCESS Bar Bottom Right.
YOUR IDENTITY
If you wish to share less of who you are or remain anonymous, consider the "username" you choose which cannot be changed. It can be then selected as which identifies you. Your real name can be hidden even if you enter it, don't expect to get verified if you use too much fake info about yourself. Remember this is to be a community to protect our users, not the wild west like Facebook.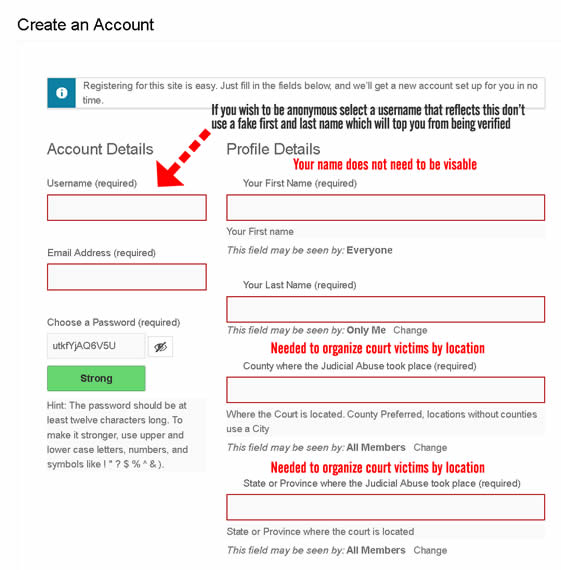 The main concept and use of this site are:
Groups, your own or others
Forum, your own or others
where you can choose to have the contents public (the world can find them)
or private (where only those you invite can see them).
MAKE SURE YOU FIND FRIENDS (MEMBERS) AND SEND INVITES.
Make sure to accept invites of other members to get started
Just like other social media sites, you can post content, text, photos or even links (URL's) to news stories,
documents or photos. The difference between Forums and Groups is that forums can be organized by topics.
Which can be specific things, for example a specific problem, judge, lawyer, person, law, solution, state,
city or county (you get the idea).
As we grow, there will be more friends, groups, forums etc. The benefit is YOU ARE THE COMMUNITY and you set the standards and rules. You are the ADMIN of your group or forum. You decide who gets access and who you wish to network with.
---
STEP TWO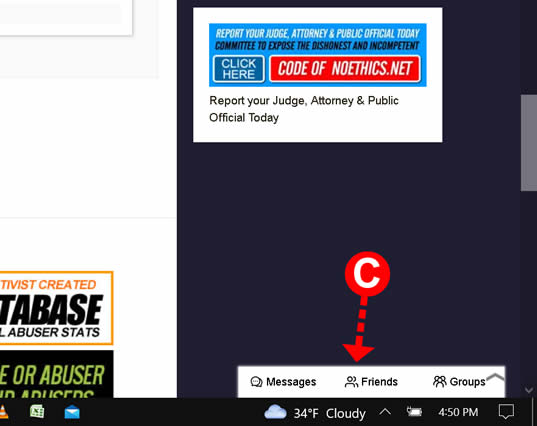 A quick access bar should always appear at the bottom right when logged on to your account.
(SEE C ABOVE).
---
STEP THREE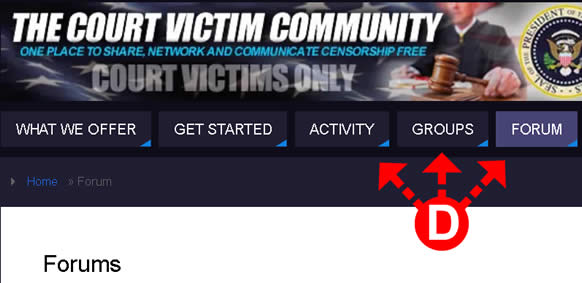 You can also access the Groups and Activity from the main site menu (SEE D ABOVE)
---
GETTING AROUND


DIFFERENCE BETWEEN GROUPS AND FORUMS
GROUPS are like Facebook groups where members of the group can interact by posting comments
FORUMS are discussion threads that are organized by topics, categories, County, State or Province and Counties or Cities (County listing is more accurate) and preferred
TO GET TO THE MAIN FORUM PAGE AND GROUP PAGE, CLICK ON THEM ON THE TOP MAIN MENU
as seen in the image above with the arrows
---
Get familiar with how your dashboard works to find your way around:

Once you have registered with Chat.courtvictim.com, you need to log in using the text link top right of the page. Once logged in, you'll see your username top right with the "Howdy, username".
1. Hover over your username and the control panel drops.
2. Hover over the items in the drop-down to expose more options.
3. Start with "Settings" at the bottom.
---
FEATURES:
We created a community with an easy to remember domain chat.courtvictim.com with many benefits to help move all court victims forward.
Offshore, hosted in Iceland for our protection and benefit
Private Messaging
Private Voice Calls
Private Video Messaging
Group Voice calls
Group Video messaging
Private Discussion Forums by State and County
Choose by email subscription how much you want to stay inform, daily, weekly etc.
Groups by State and City
Groups by Special Interest
Newsletters
Access to free online posting of your story, photos, documents and details
Profiles where you choose how much you wish others to see or how to find you
Public Discussion Forum by State and County
Community Polls (Vetted Court Victims Only)
News Feed
Social Media Feed Like FB
Browser Notifications of activity
Email notifications by choice of subscription of topic (Web Push)
Security
WebRTC is the most secure voice and video calling technology available today on the market.
Phone Android IOS app coming soon
The goal is to fit where you are as a victim and how much you wish to share or get involved. To network, share, stay informed, find other victims of the same abusers, County and state. Private or public communications.
To provide organization, privacy to fit your needs, private secure communications between one another, to get your message out, your story told and to document our abuse and judicial abuse nationwide.
Getting involved is simple. Register (knowing the more verifiable info included, the faster you can be verified for everyone's protection). Ensure you include a valid email address, know that the info we collect is only used to organize victims by state, county and court division. Your info will never be shared or sold. Get familiar with our community via "Friends, Groups and Messages interface" and "World Discussion Forum by State, Province, County and City". Secure, free audio and video calls. Like Facebook, you choose your friends who can contact you and who you associate with.
Everything in one place ONLY for Court Victims
It's NOT JUST MESSAGING, it's audio messaging, video messaging, group audio, group video and screen sharing to help one another figure out how it works or show your friends something on the screen
BE THE COMMUNITY
Live chat functionality allows creating chat rooms or private conversations between community users.
• Files Uploading
• Embedded links with thumbnail
• Emoji's
• oEmbed YouTube, Vimeo, Flickr, DailyMotion, Kickstarter, Mixcloud, SoundCloud and more
• Message sound notification
• Whole site messages notifications (User will be notified anywhere with a small notification window)
• Mass messaging feature
• Mentions feature
• Bad words filter
• Block user feature
• Reactions to messages
• Chat Rooms NEW
And many more features not listed here and constantly expanding
---
Make sure you have Notifications ON for both email, PC's  and mobile devices
SEE THIS PAGE FOR NOTIFICATION SET UP
HELPFULL GROUPS
GETTING STARTED USING THIS SITE
COMMUNITY SUPPORT GROUP, QUESTIONS AND HOW TO INSTRUCTIONS
---
Still need help or have questions? Contact us for help HERE
LIVE SUPPORT IF WE'RE ONLINE BELOW:
---
---